Richard Dawkins didn't invent the word "meme" in 1976 and then the phenomenon followed. It's human nature. We copy things and re-appropriate them over and over and over. The implications morph and change, but the core of the meme holds strong, like a distant star.
A look at our local constellation:
1) Bronze Fonz
The hated statue on Riverwalk Way is a metallic, three-dimensional meme appearing most commonly in photographs of visitors and recent settlers who commonly pose with the thumbs-up rogue as if he were the real Fonz. However, according to a recent survey, only 5 percent of such photographers have ever seen Happy Days and the rest confuse Mr. Rictus with Jerry Lewis, Russ Feingold or Paul Rudd.
2) One Call, That's All
Thanks to Gruber Law Offices, you can't utter these four words without referring to the area's most ambitious personal injury lawyer and most recognizable tall guy walking down the sidewalk (sorry, Tom Barrett). Such a good joke in English, it's now spread to Spanish: Una llamada es todo. So if your friends no longer laugh at "one call" quips, mix it up.
3) Great Job, Milwaukee!
Credit for this belongs to the Milwaukee Record, which owns "a sentient machine known as the Great Job Milwaukee Bot to keep track of the city's many appearances on dopey online lists." The joke, or at least part of it, is that we could all be collectively responsible for being the best-shaved, most-underrated, most-creative, most-cake-loving metropolis, or at least number four of ten. Great job!
View this post on Instagram
4) Meanwhile in Wisconsin …
More traditional image-text memes of this sort tend to lean in one of two directions: Either comparing the snowy troubles of southern or coastal areas with the white-out normality of Wisconsin or showing some yokel snow-blowing in basketball shorts. Great job, Milwaukee.
5) David Clarke's Memory
It was a dark, or at least strange, day in Milwaukee County when former Sheriff David Clarke took to the controls of the meme-o-matic to snipe at "Riverwest resident" Dan Black, a fellow wearer of cowboy hats! The two had a brief interaction on an airplane in early 2017 that led to Black being also-briefly questioned by sheriff's deputies. The meme below, dropped right smack in the middle of the controversy, spread via Facebook and area TV stations.
6) Milverine
He's definitely a real person and not a collective hallucination brought on by mass consumption of X-Men movies. One nice thing about the guy and the mystique is people often encounter him/it out in the wild, bare-chested and walking with great purpose, before learning that he's "a thing." Milverine has come to stand for being who you want to be and little else.
7) Giannis
The "Greek Freak," Giannis Antetokounmpo, is one of the best basketball players in the world. Maybe even the best, and he's a nice guy, making him prime fodder for positive sports memes.
View this post on Instagram
8) "Fear the Deer"
The Bucks motto began life as a good old-fashioned spoken word meme. While the exact origins remain shrouded in the mists of 2010, the threat became popular in an age when taxidermied deer are more tasteful than ever. These days, the team embraces the slogan, which can also be used to refer to Jagermeister.
9) "Milwaukee" itself
So much city pride, anger, trepidation and hope are wrapped up in the city's name that no presentation of it is neutral. The retro-lightning Milwaukee Tool says: We're part of a continuum of cool reaching back decades. The Milwaukee Home shirt says: I understand odd-even parking. Basically, the city name has a second life beyond such uses as GPS.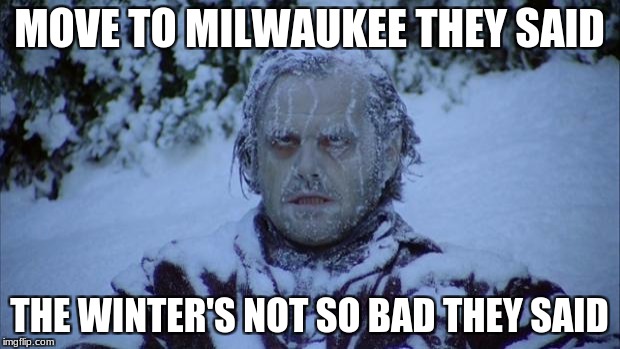 10) Recombobulation Area
It would be nice if more facilities than Mitchell International Airport had these places to collect yourself before venturing forth: grocery stores, coffee shops, libraries. Recombobulation isn't the most widespread meme, but people know what you mean as we all have a cluster of neurons responsible for storing: Recombobulation.
Comments
comments